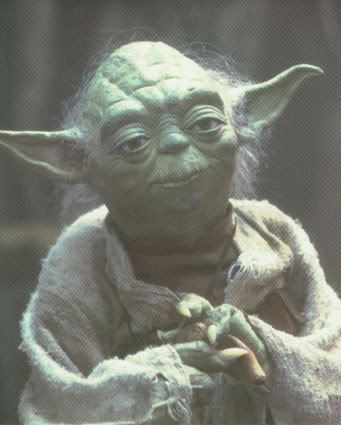 ...there is no try."
Everything I ever needed to know in life I learned from Yoda. Yeah, that's right, the entirety of my philosophy about life, the universe and everything was taught to me by a green 2½ foot
muppet
. So what? I don't think there's much argument against such wisdom as the opening phrase to this post. If ya wanna lose weight, stop
trying
and start
doing
. That became evident to me when I started enjoying success with this. I did a whole
lotta
trying throughout my life, but not much doing when it comes to weight loss. Some other equally brilliant axioms include:
Named must your fear be before banish it you can.
Death is a natural part of life. Rejoice for those around you who transform into the Force. Mourn them do not. Miss them do not. Attachment leads to jealously. The shadow of greed, that is.
Always in motion is the future.


When 900 years you reach, look as good, you will not.
These words all mean something to me in a very real way. They speak to my struggles, fears and questions about myriad facets of my life, especially my weight loss. It's no wonder, then, that Indians (dot, not feather) named the traditional practice of mental and physical self-discipline after such a brilliant and powerful Jedi. Yep, I'm talking about
yoga
.
Seriously, though. If you haven't tried it before out of fear of how your body would respond or how difficult it would be, I urge you to shed those fears and give it a try. Yesterday was my last experience with
Zumba
(for now) because the rotation goes on to yoga for the next 2 months. I'm looking forward to it. I've done it a couple of times by following the
Namaste
show on
FitTV
, but I think having a real class with an instructor will be a much better experience. I can say that there are a lot of benefits to yoga including flexibility, focus and control over your breathing, not to mention the benefits that Will Ferrel discovered in a famous (not work-safe)
SNL
sketch:
Wish me luck! ;)