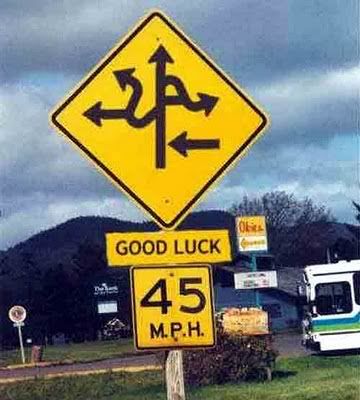 I haven't got a clue what I'm going to talk about today, but I feel the urge to blog, so I'm gonna take it and go. Hopefully, this isn't too disorganized and annoying, but I'm not making any promises? Ready? No you're not. Put on your seatbelt. Ooh, look at how loose it is on you. High-five!
So, I guess I'll start with the usual. A Thursday has come and gone since my last post. I had a fantastic weigh-in, although I skipped the meeting. I went to a different WW center since I was headed out of town to meet my brother, his girlfriend, my father and his wife at a BBQ joint in Lawrence (Jayhawk country!) to celebrate brobro's birthday.
I planned ahead and tracked everything I'd intended to eat, which I'm sure many of you are well aware is quite a challenge when eating BBQ, which is just as much about quantity as it is quality. I planned to have half a sandwich, baked beans and fries. My plan was quickly foiled when the table ordered
two
appetizers: jalapeno poppers and spinach and artichoke dip with french bread and tortilla chips. I also ordered a lemonade instead of the water I'd intended to get. So yeah, not exactly sticking with the plan, but I didn't get too out of control. I paid attention to my hunger, I tried not to dip too much into the apps, I stuck with the half-a-sammich plan, and fortuitously enough, was not happy with the baked beans -- which either got messed up or recently changed, because I bit into a black olive, which is one of my least favorite foods. I was so turned off, I didn't take another bite of them.
I'd estimate I went over my plan by about 10-15 points, but that's ok. I had a really good time seeing my brother (for the first time since Christmas), and I think he really liked the Clint Eastwood 35-disc boxed set my father and I got him. We discussed how everyone is doing, a cousin's upcoming wedding next month and new developments in one another's houses. I love my family so much. :)
Also, I accepted the offer and completed all the new hire paperwork at my job and they made my first day retroactively May 24th. My boss and I made a request that they review my qualifications and consider me for a slightly higher wage, and they agreed to do so along with their future across-the-board competitive compensation review for the area. After all those months of unemployment and stress, the negative impact it had on my weight-loss
twice
, the uncertainty that I'll be able to make ends meet and worst of all, the full
year
of going without health insurance, I am so grateful to my company for the position I've been given. My benefits, by the way, are fantastic. Health is only $15 per pay period and I opted into the buy-up for an additional $12.50, which reduces the coinsurance from 20 to 10%, the copay from $25 to 15 and the deductible from $500 to 0. It also includes eye and dental. I can't
wait
to go to the doctor in a couple of weeks. She hasn't seen me in a year, and I really want to see how my numbers have improved since then. I could also
really
use some allergy meds. ugh.
So this is Memorial Day weekend. So far, I've had a busy Saturday that involved a trip to the vet, some browsing at a few clothing stores, a pointless drive to the dealership for what was supposed to be an oil change (and yes, I called ahead on Wednesday and confirmed they were going to be open Saturday morning, the lying sack...) and a few other random errands here and there. Today, I've already fixed and eaten a tasty bagel breakfast sandwich, showered myself and the dog and dived into the laundry. I'd like to get the rest of my shopping done, including groceries, clean up the bathroom, finish up the laundry, spray some weeds outside and prepare my chicken teriyaki and stir fry dinner for the week.
Tomorrow, I finally stop running errands and chores so I can chill out with some friends, visit the WWI memorial and enjoy Memorial Day. Nothin like a good, relaxing Monday off after a very productive Saturday and Sunday. Hope yall are enjoying it as well!
Progress so far: 139.6 pounds.