Yesterday was a good decompression day. I definitely needed that. I went over my points by about 15 or so, but that's not a failure. Saturdays are my high point day partially to take out cravings head on and partially to ramp up my metabolism for a week's worth of losing. So I bet you're wondering just how much stuff I ate, amirite? I wish I'd taken pictures, but as I've
pointed out before
, I never think to do so until after the food is gone.
Anyhow, I gave a brief list yesterday, but here's my breakfast in all its glory yesterday: it consisted of 6 small pancakes, prepared from mix, 4 slices of turkey bacon (cooked em in the oven to get extra crispy, much better that way), about ½ cup home fries (courtesy of a loving girlfriend) and a 2 egg omelet prepared from egg beaters with sauteed mushrooms, onions, jalapenos spinach and some 2% shredded cheddar. I topped it off with some peanut butter and syrup on the 'cakes and some ketchup and tobasco on the taters and eggs. I wasn't kidding when I said yesterday it was a rich meal...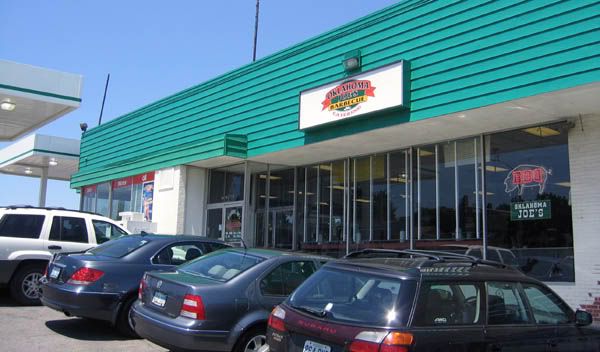 Dinner? Oh my god, I pity those of you who don't live in and have never visited Kansas City. I'm not kidding when I tell you we have the best BBQ on the planet.
Oklahoma Joe's
is without a doubt my favorite barbecue joint in the metro. There's something satisfying to me knowing that it stands head and shoulders above high-class joints like
Arthur Bryant's
,
Gates
and
Jack Stack
and
that it does so operating out of a
gas station
. If it's any indication of how good the food is, we waited in line during the first game last night and it took an hour to get through the line and put in our order. I got one of their specials for the evening, the Cowboy dinner: a few ounces of beef brisket, 3 ribs, a couple ounces of sausage and 2 sides. My girlfriend and I split a side of fries, a side of onion rings and a side of baked beans. I couldn't finish 2 of the ribs, half the sausage or a third of my share of the fries. It was probably the biggest meal I've had in the last 6 months, quite possibly since I started this weight loss journey. Before, though, I could have easily eaten the whole thing without stopping short or sharing my sides and I probably still would have had room for some sort of dessert...
That said, it was a 53-point day (assuming I didn't short myself on anything, which is very possible), and I loved every minute of it... up until about an hour after dinner. I felt bloated, greasy, over-salted and a wee bit regretful for going so overboard. If I had it to do over again, I may have ordered something smaller, but I still enjoyed the meal thoroughly. I woke up around 2 and finished off my water bottle, filled it back up and drank the whole 24-oz volume again before I woke up this morning. I may be retaining some water for a bit. Thems was salty fries! I know my capacity for indulgence isn't what it used to be. Next time I'll be a little more reasonable.
Between the big 'ol breakfast mess and the remnants of takeout barbecue dinner, I woke up this morning to an absolutely
trashed
kitchen. I plowed through the piles of dishes, skillets, tupperware and a 6sqft griddle (a new addition to my kitchen arsenal, thanks to my pop). I will never be able to explain why I enjoy cleaning it up so much, but that satisfying feeling I get when I see a pristine kitchen is rather significant. No other room in the house can do that quite as well.
Today, I'm back in the realm of reasonable Weight Watchering. We're making pasta e fagioli for dinner, which is a 100% filling foods 2-point recipe, and since it makes 20 8-oz servings, we're gonna have it a lot this week
and
a stockpile in the freezer as well. Oh, btw, I'm not going to have weigh-in updates for the next two weeks. I don't want to get my award at a different meeting and I'll be out of town this Saturday for family stuff and the following Saturday is my Walk MS thing, which has registration at 0800. I can pretty much promise I'll have a big-ol blog party when I hit 100 lost at my next WI on the 25th, and I'll have a surprise announcement in light (and highly appropriate) of the accomplishment as well.