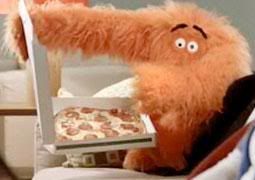 If yall are anything like me, you've heard this from people who know you are on a diet at least a few times. I think a lot of people are amazed at just what you can squeeze into the program, which is a shame for those that are scared away from diets thanks to advertisers that tell them it's gonna mean one of two food choices: rabbit food and pre-packaged shit. It disappoints me that even Weight Watchers advertises their little hungry monster tempting someone with a box of pizza as if it is the absolute, forbidden taboo of dieting (which, for many it may very well be, but in moderation...).
I've learned along the way what I can and cannot handle. What is and is not light enough to fill me up while staying within points. That said, I haven't had the bravery to try fitting two of my favorite meals into my weight loss journey up until Saturday. One of these still remains uneaten, the dreaded
biscuits and gravy
. Saturday, however, I did tackle the other.

Ever since I was a little (pudgy) kid, if you asked me what my favorite dinner was I'd tell you "chicken fried steak smothered in creamy gravy, mashed potatoes and more gravy, macaroni and cheese (from scratch, not box) and peas." For the entirety of my existence, if you ask me what I'll have before they throw the switch, this will be my answer every time (unless I'm REALLY craving some buffalo wings, then I'd be hard pressed not to ask for both). My mom taught me how to make macaroni and CFS long before she passed away and I'm glad because no one will ever make either as good as Mom. I shied away from it for the past year because seriously, how healthy can you make a dinner that not only has 4 delicious components, but worse, one is made from butter, flour, cheese and white pasta and another is battered and breaded, deep-fat-fried beef smothered in gravy?

How? Well, first, I made the mac with light butter, 1% milk and 2% velveeta. I chose not to use healthier pasta, but I feel like that was still a good choice. It came out almost exactly like mom did, losing very little flavor to the lightening and at the exact same portion size of about 1½ cups as I would typically have. The steak, on the other hand, I had to cut down to a 3oz portion (as opposed to my typical 10-12oz (or more depending on seconds)), but since I've changed the frequency and size of my meals I would have had little chance of downing something that big (let alone with sides). From there, I used egg substitute for the wash and tried to bake instead of frying in shortening. Mom's recipe calls for crackers as a coating (as opposed to flour, cornmeal or bread crumbs that most would use), which while the meat cooked, the crackers remained unbrowned and unappealing. So, I busted out the skillet, added just a little oil and let 'er rip. I found an article (sorry, can't find the source I found at home now that I'm at the lab) that studied the pickup of oil by frying and concluded that you only gain about 4.8% by mass when frying something that is breaded. My steak was just over 120g, so 6g of oil added into the points didn't do too much damage (especially since it was a quick fry as the meat was already cooked). I skipped on the gravy and put FF margarine on my mashers and corn (GF hates peas) and some 57 on the steak; it was perfect.
I apologize for not taking a picture of my plate, but there was no way I was going to wait another minute to take it after the 90 minute prep. Rest assured, my plate was very beatiful and quickly empty.

Altogether, it was a

very

filling and

extremely

satisfying meal, a throwback to my youth that I sorely missed. It wasn't a 4 point salad, but it wasn't the 80 point CFS dinner I'm sure Cracker Barrell would have handed me either. Nope, I was pleased with my 29 point meal that would have been 22 if not for the King's Hawaiian dinner rolls (my favorite commercial dinner roll of all time) I just

had

to have. I planned ahead, made it work with my points (I even had a breakfast burrito and potato pancake for breakfast, but that's another post) and sated a craving I've been neglecting for far too long.

Now, if only I could figure out how to lighten up the biscuits and gravy....