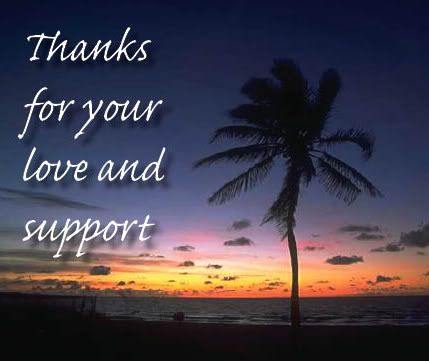 Not gonna make a long one today, but I will mention that in spite of my
earlier
transgressions
this week, I've managed to pull yet another great loss at this morning's weigh-in. I definitely wasn't expecting to hit another round number, but I got it on the nose with a 3.2 loss that brought me to exactly 80 lost so far. When it was announced at the meeting, my leader asked me how I handle my emotional triggers for eating. I couldn't help but plug our weight loss community. I really feel like all the posts I make about my struggles are cathartic, and the honesty and sense of accountability I have to yall helps me stay the course. On the other hand, reading all yalls posts about similar struggles and successes give me a sense of camaraderie that constantly reminds me I am not alone in all this, and I never will be.
So this is my official thank you to all my readers, especially to
Brandi
,
Matt
,
twinkelydots
,
LTer4ever
,
CJ
,
Karen
,
Jeff
,
Carlos
,
Tony
,
MizFit
and everyone else that leaves a comment. Your accolades, support and encouragement mean more to me than I could ever express.
Progress so far: 80 pounds.