Hey, sorry I didn't update yesterday. I was... lazy. Well, as far as blogging is concerned. In reality, I went grocery shopping, cleaned up the house, did some yardwork, hit the gym and cooked a delicious and healthy dinner. Today, after work, I got in a great workout. I'm still rockin the elliptical. After all this time, I still seem to struggle with entering the realm of weightlifting, but I am confident that I'll get there when I'm ready. What I
did
manage to do today, was ramp up the intensity on the elliptical by ramping up the resistance on the machine, which helped to keep my heartrate a little more steady without having to focus on my speed. I like it.
OK, so last time, I mentioned in passing a little 3.5-mile obstacle course race that I completed recently. The event is called
Warrior Dash
. I ran it in Forney, Texas, a suburb in Southeast Dallas, which just happens to be a city where a lot of my friends live. I got off work early on Friday the 30th and drove the 500-some mile trip, arriving at a friend's house around midnight. The following morning, we got up, had a nutritious Chick-Fil-A lunch and drove down to Cousins Paintball, where the course was laid out.
The course
winded around the paintball grounds, through a creekbed, a small bog, the woods and some fields. Along the way, there were obstacles such as a huge wind machine, a steep, 15-foot muddy incline with little more than some slippery footholds in the mud and a rope to climb it, some large cable spools to hurdle over, a 20-foot cargo net, a line of fire to jump over and a long pool of thick mud with barbed wire overhead to crawl under. Here I am taking on those last two obstacles (which were the final two, less than 100 yards from the finish line):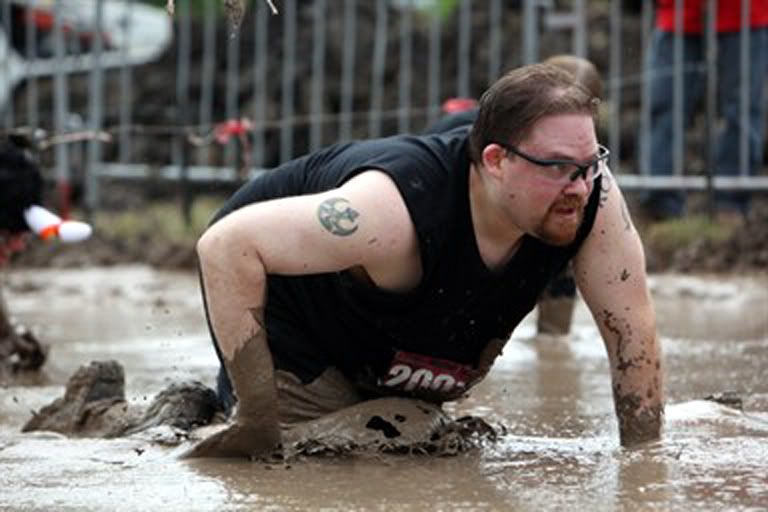 I really enjoyed running this race with my friends. The weather was perfect, the energy was palpable... I finished the race in 45:13.60, which is a 14:35-minute mile pace. That's not terrible, but considering someone finished it in under 18 minutes, I'd say it's not amazingly good either. That said, it's only about 30 seconds slower and 0.4 miles longer than the 5k I ran last summer (not to mention being slowed down by the obstacles)... I'm getting better. My primary frustrations were that the course was very muddy and slippery in some spots which made it difficult to run, and I'm still very bad at running in a full-impact setting. I really need to train myself to run somewhere other than the elliptical, because my 9-minute mile pace there doesn't translate to real running in any stretch of the imagination.
Anyhow, Warrior Dash was awesome. I can say with confidence that it was the most insane race I've ever run, and I'll definitely be running again next year. I know that by that time I'll be at my goal weight, I'll be in much better shape and better trained for real running. I hope to improve my time by at
least
10 minutes.
Oh, and if any of you are tempted to run this race (which how couldn't you with my fantastic retelling of the event and inspiring pictures of me triumphing over it?), fear not, for there are 7 more Warrior Dash events throughout the states over the next several months:
5/22 & 5/23/2010 -
Southeast
6/19 & 6/20/2010 -
Midwest
7/10/2010 -
Northwest
8/21/2010 -
Rockies
9/18 & 9/19/2010 -
Northeast
10/9/2010 -
Mid-Atlantic
10/30/2010 -
NorCal